Otherwise known as
User:Teddybearlover
is a weird user that is the wiki's bitch. He has a weird fetish for teddy bears, as he told us in the chat himself "I love teddy bears, it's a hobby and a lifestyle" weird right? So anyway, why did I make this page? To let the users on AA know that we have a wiki's bitch. Yeah, that's right! How did he become the wiki's bitch? Well, it's quite simple; you go to a chat, PM someone that's kinda clueless and link them to AA and boom, you have someone to abuse, thus they become the wiki's bitch.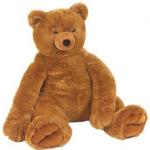 So, tell me, do you believe that Teddy is 20 years old? Didn't think so, this bitch here says that he's 20, weird right? That's like saying that Nik is awesome. Or saying that DJ is hot.
The Truth about Teddy
Ad blocker interference detected!
Wikia is a free-to-use site that makes money from advertising. We have a modified experience for viewers using ad blockers

Wikia is not accessible if you've made further modifications. Remove the custom ad blocker rule(s) and the page will load as expected.