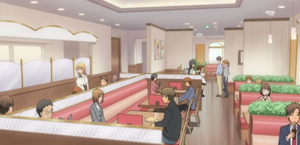 Mama Peppeh is a restaurant in South City that serves spicy foods. It is open from 7:00 (AM) to 11:50 (PM).
Business
Mama Peppeh is a very good business. Mama Peppeh is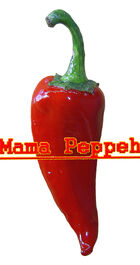 also popular. Mama Peppeh is where
Bulla
takes her friends out to eat, or just herself. It is also 
Miricle's
 favorite restaraunt (hence for her love of spicy foods).  
Food
Appetizers
Jalapeno poppers
Guacamole and chips
Potato chips with jalapeno dip
Boneless Buffalo Chicken
Main course
Pizza with hot sause
Chili
Hot wings                                                            
Spicy Chicken Sandwiches
Spicy Chicken Nuggets
Hot'n Spicy Shrimp
Drinks
Soda
Wine
Beer
Lemonade
Water
Fruit Juice
Fruit Soda
Desserts
Smoothies
Milkshakes
Cake
Cupcakes
Brownies
S'mors
apple pie a la mode
Ad blocker interference detected!
Wikia is a free-to-use site that makes money from advertising. We have a modified experience for viewers using ad blockers

Wikia is not accessible if you've made further modifications. Remove the custom ad blocker rule(s) and the page will load as expected.