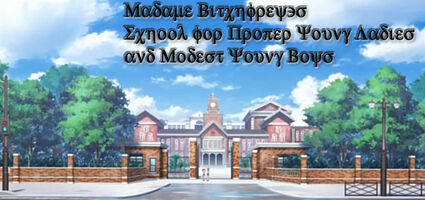 Madame Bitchfrey's School for Proper Young Ladies and Modest Young Boys is an exclusive boarding school, most commonly attended by the daughters of rich entrepreneurs and other wealthy parents. There are approximately one hundred girls from the ages of 8-18 in attendance at the academy, and ten boys between the ages of 8-14.
Curriculum
The school is large and thus, class sizes are small, with an average of 10-15 children per class. The school has a record for maintaining high grade point averages and test scores. Extracurricular classes are held, and some of these are mandatory. For both boys and girls alike, ballet is a mandatory class, as is ballroom dancing. The male students take a business and work ethics class, while young girls take an etiquette class. Spanish and French are also mandatory classes. For both genders, a synchronized swimming and choir class is also necessary. In the winter, skiing and ice skating are taken
Additional Information
Students eat healthy, organic vegetarian-based meals for six days of the week. The only day exempt from this is Fridays, where they hold a banquet dinner. This banquet serves as a learning experience, teaching them how to properly and neatly eat meat. Every fortnight, a ball is held, where ninety boys from San Rumbolido's Proper Boys' school attend so that all girls have a dancing partner.
The uniform is light blue, and boys wear khaki shorts where the girls wear a skirt. Girls are allowed to wear only light-colored dresses to the ball, and not black or white.