Koski Regional Medical Centre
is one of the most prestigious hospitals in the world. It is well known for its medical expertise, as well as their wide range of specialists. They also possess a wide range of treatment options and provide services for helping people get back on the road to a happy, healthy life.
History
Koski Medical Hospital was founded by Dick Hastings in 1904. Upon expanding the grounds of the hospital, he began gathering a team of medical experts and he contributed much of his family's wealth towards making advances in medical technology. 
Special Wards
There are a wide range of unusual wards, sorting the patients into rough categories and providing them with the specialists that will be of most assistance towards their recovery.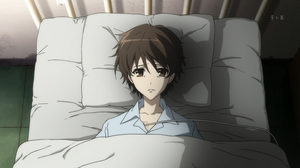 Peanis Trauma Ward
The Peanis Trauma Ward, or "PTW" is a ward designed specifically to help men who are suffering from peanis injury or damage to their genitals. The Peanis Trauma Ward is staffed with a team of specialists who exercise a wide range of therapy sessions to the mentally-scarred victims while utilizing modern technology to aid the recovery of the gonads of others. The Peanis Trauma ward is the only known ward of such nature in the world.
Male Rape Unit
The Male Rape Unit, also known as the "MRU" is a ward targeted towards male rape victims. The Male Rape Unit specializes in helping their patients recover from rape. There are on-location counselors and the members of the ward frequently go on "therapeutic outings" with their counselors and fellow patients to aid their recovery. Ted Reigen spent some time in this ward after being raped by "Linsley".

Unexplainable Coma Ward
The Unexplainable Coma Ward (UCW) is designed specifically to treat patients who have fallen into a coma for either an unknown reason or for simply no reason whatsoever. Like the other special wards, it is staffed with only the most dedicated doctors and the most diligent specialists. The UCW provides patients with needs they will have while in a coma, such as life support and funded oxygen equipment to keep their patients living.
This ward also serves as a research institute for specialists to try and figure out what causes someone to fall into a coma for no reason at all. The specialists here learn more about comas by studying their patients carefully and making observations about the patient's physical state. In this manner, the doctors hope to learn enough about comas to learn how to further aid in helping those who have fallen into them
Female Battalion Recovery Unit
The Female Battalion Recover Unit (or FBRU) is a unit designed to help treat young women who are active in combat. The ward was designed with this intent to help women who are vigorous and active in battle to get back to "doing their thing" as quickly as they can.
The need for this ward sprang into existence in 1918, when one female patient broke her doctor's nose after he informed her she needed another week of bed rest. After this isolated event, a legion of battered and terrified-looking male doctors went on strike until the ward was proposed and completed.
Ad blocker interference detected!
Wikia is a free-to-use site that makes money from advertising. We have a modified experience for viewers using ad blockers

Wikia is not accessible if you've made further modifications. Remove the custom ad blocker rule(s) and the page will load as expected.