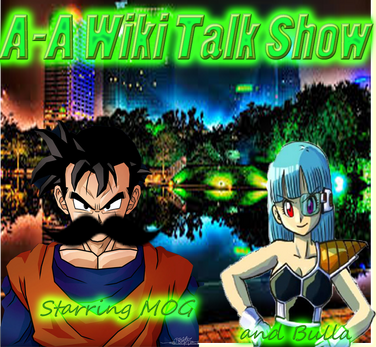 MOG:Hello Anime-Arts users, and this is the first installment of THIS! Which is AA Wiki Talk Show with MOG and Bulla. Also I have a moustache. Deal with it.
Bulla:Hola I'm Vinalla! *BULLA
MOG:*laughs* Okay for this first portion of the show, you have to try to stump me with a riddle, and then I'll try to stump you with science trivia just cuz, why not?
Bulla:Hmmmmmmm K I got one folks!
MOG:Alright
Bulla:Why?
MOG:Because 42?
Bulla:No, because 69
MOG:DAMMIT! Okay, here's my Science Question thing
Bulla:Well the answer was actually "Why not?" xD
MOG:.... Alright, even if given technology could humans ever reach the speed of light?
Bulla:HEHEHEHEHEHE! Yes
MOG:Like, without destroying yourself. The answer is no, because in order to achieve the speed of light, you need to be massless. Would you like me to explain WHY that is?
Bulla:Sure! :D
MOG:*insert boring explanation that makes Bulla snore. MinutePhyscis does a MUCH better job explain this* OKAY NVM! LET'S GET TO EXCITING THINGS. LIKE KIM KARDASHIAN'S BABY GIRL AND INTERNET IN AIR BALLOONS!
Bulla::OOOO YES! AND DEM NYAN CATS!
MOG:So anywhore, what do you think of kimmy's daughter?
Bulla:I c wat you did tere
MOG:*laughs*
Bulla:No need to Inslut Kimmy
MOG:Yes *continues laughing* Anyways, who gives a shit? LET'S TALK ABOUT WIFI BALLOONS! So Google put wifi into hot air balloons
Bulla:Puts the Japanese word into balloons? Legit. Thank you people!
MOG:and put them up in the stratosphere because people there have no internet. Poor them. Thank You Google
Bulla:Gracie Goggle!
MOG:Anyways, our last topic, the ARKYD Space Telescope You can donate to it, put a picture on it and see it in space, and take a picture of space. Its pretty sweet. Full info I'll put somewhere. Trust me its worth looking at. Its almost as interesting as me when I get high off of sharpie haha.
Bulla:SPEAKING OF SHAPIES! *stuffs sharpies in MOG's nose*
MOG:... HEHEHEHEHEHEHE
Bulla:Watch him folks!
MOG:GIVE ME STAPLEEEEERS!
Bulla:*hands him staplers*
MOG:DELICIOUS! NOW! GIMMIE MOOFINS, CUPCAKES, AND A HOUSE!
Bulla:*dumps stuff on him*
MOG:NOMONOMNOM
Bulla:xD Well there's MOG
MOG:STAPLEEEEERS! OH AND BTW https://www.youtube.com/watch?v=oHg5SJYRHA0 WE'RE DONE HERE PEOPLE!
Bulla:HELLO YEAH G'NIGHT
---
Full Info for ARKYD Kickstarter: http://www.kickstarter.com/projects/1458134548/arkyd-a-space-telescope-for-everyone-0
Ad blocker interference detected!
Wikia is a free-to-use site that makes money from advertising. We have a modified experience for viewers using ad blockers

Wikia is not accessible if you've made further modifications. Remove the custom ad blocker rule(s) and the page will load as expected.